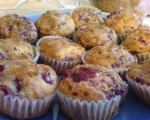 Prep: 20 min
Cook Time: 20 min
Total: 40 min
Serving: Makes 12 muffins
A sweet crunch and tangy raspberries combine deliciously in Sugar-Topped Raspberry Muffins. Great over a leisurely breakfast or for grabbing on-the-go.
Ingredients
2 cups of all-purpose flour
3/4 cups of sugar
2 teaspoons of baking powder
1/4 teaspoon salt
1/2 cup (1 stick) of unsalted butter, melted
3/4 cup of whole milk
1 large egg
1/4 teaspoon vanilla extract
1-1/2 cups of fresh raspberries
Directions
Heat oven to 400 degrees. Line one 12-cup muffin pan with liners or coat cups with cooking spray.
In a medium bowl combine 1-3/4 cups of flour and 1/2 cup of the sugar, baking powder and salt. Add butter and combine.
In a separate bowl, whisk together the milk, egg and vanilla.
Gradually add the milk mixture to the flour mixture, stirring until it is all combined.
In another bowl, add the raspberries and the remaining flour.
Gently fold the raspberry mixture into the batter.
Carefully fill each muffin cup 3/4 of the way full.
Use the remaining sugar to sprinkle over each cup.
Bake for 17-20 minutes, or until an inserted toothpick in the center of a muffin comes out clean.
Transfer muffins to a cooling rack and serve warm or completely cool.