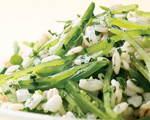 Prep: 12 min
Cook Time: 15 min
Total: 27 min
Serving: 6 Servings
Eating well does not mean that you have to sacrifice on taste. Enjoy this fresh and healthy side dish of sugar snap peas and barley drizzled with olive oil and lemon juice.
Ingredients
2 cups water
1 cup quick-cooking barley
8 ounces sugar snap peas, trimmed and sliced into matchsticks
1/2 cup chopped fresh flat-leaf parsley
1/4 cup finely chopped red onion
2 tablespoons extra-virgin olive oil
2 tablespoons lemon juice
3/4 teaspoon salt
1/4 teaspoon freshly ground pepper
Directions
Place the water in a saucepan, bring to a boil and then add the barley. Cover the pan and cook over medium-low heat for 12 minutes, and then remove from the heat and let stand for 6 minutes. Do not uncover.
Using a sieve, rinse the barley under cool running water, shake to remove any excess liquid and then place in a salad bowl.
Add the sugar snap peas, parsley, onion, oil, lemon juice, salt and fresh pepper and then gently toss to combine.