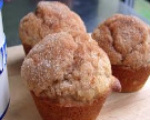 Prep: 20 min
Cook Time: 20 min
Total: 40 min
Serving: 10-12 muffins
Old fashioned sugar muffins.
Ingredients
2 cups flour
3 teaspoons baking powder
4 tablespoons sugar
3/4 teaspoon salt
1/3 cup shortening
1 egg
3/4 cup milk
1/4 cup butter, melted
2 teaspoon cinnamon
Directions
Preheat the oven to 450 degrees Fahrenheit. Grease a muffin pan.
Mix together all the dry ingredient except 2 tablespoons of sugar and the cinnamon.
Beat in the shortening until the batter is coarse. Mix in the eggs until moistened.
Fill the muffin tins 2/3 full. Bake for 20 minutes.
Combine the sugar and cinnamon in a bag. When the muffins come out of the oven, remove from the pan. Dip the tops in the butter and toss in the bag of cinnamon sugar to create a sugar crusted top.