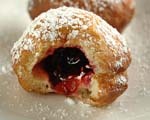 Prep: –
Cook Time: –
Total: –
Serving: Makes about 30 doughnuts
These traditional Israeli jelly dougnuts just taste like Hanukkah!
The word sufganiyot is derived from the Hebrew word for "sponge" because of the spongy texture of the dougnuts.
Hebrews eat fried foods during Hanukkah because of the miracle of the Temple oil not running out for 8 days.
Ingredients
2 Cups all-purpose flour
1/4 cup sugar
1 packet dry yeast
1/2 teaspoon salt
2 large egg yolks
3/4 cup warm milk
2 tablespoons butter
6 cups oil, for frying (canola or vegetable)
2/3 cup jam or jelly
Powdered sugar, for dusting
Directions
Whisk flour, sugar, yeast and salt in a large bowl to combine.
Add egg yolks and milk and mix until a dough forms. About a minute.
Add the butter and knead until the dough is smooth. About 5 minutes.
Form the dough into a ball and place in a large, greased bowl and turn to coat. Cover with a damp towel and let rise until dough doubles in size, about an hour, maybe 90 minutes.
Punch down the dough. Transfer to a lightly floured work surface and roll out to about 1/4-inch thick.
Using a 2-inch round, stamp out rounds and place on a lightly floured baking sheet about 1/2 inch apart.
Take remaining dough roll out and repeat until you have about 30 rounds.
Cover rounds and let rise again in a warm place until puffy and about 1/2-inch thick. About 30 minutes.
Heat oil to about 350 degrees F. Using a spatula, carefully drop rounds one at a time in the oil. Leave plenty of room for them to cook. Fry until the bottoms are golden brown. Then flip and fry on the other side.
When doughnuts are cool enough to handle, use a knife to punch a hole in the side of the doughnuts to form a pocket in the center.
Pipe about 1 teaspoon of jam into the doughnut and dust with powdered sugar before serving.