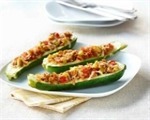 Prep: 15 min
Cook Time: 25 min
Total: 40 min
Serving: 6 servings
Zucchini stuffed with Kellogg's All-Bran® and vegetables
Ingredients
3 medium zucchini, about 20 centimetres (8 inches) long
10 millilitres (2 teaspoons) vegetable oil
125 millilitres (1/2 cup) chopped celery
50 millilitres (1/4 cup) chopped green pepper
50 millilitres (1/2 cup) chopped green onion
1 clove minced garlic
1 small chopped tomato
2 millilitres (1/2 teaspoon) ground oregano
1 millilitres (1/4 teaspoon) ground pepper
125 millilitres (1/2 cup) All-Bran Original® cereal
50 millilitres (1/4 cup) dried bread crumbs
125 millilitres (1/2 cup) shredded, part-skim mozzarella cheese
125 millilitres (1/2 cup) tomato sauce or any prepared tomato-based pasta sauce
30 millilitres (2 tablespoons) grated Parmesan cheese
Directions
Preheat oven to 200 degrees C. (400 degrees F.). Crush All-Bran Original® cereal. Set aside.
Cut zucchini in half lengthwise. Using a small spoon, scoop out center flesh of zucchini; roughly chop and set aside. Place hollowed-out zucchini shells in the bottom of a lightly greased, shallow baking dish.
In medium skillet, heat oil over medium-high heat. Add celery, green pepper, onions, garlic and reserved, chopped zucchini flesh. Saute for four to five minutes until softened. Remove from heat and stir in tomato, oregano, pepper, crushed All-Bran Original cereal, bread crumbs and mozzarella.
Divide mixture evenly among hollowed-out zucchini shells. Recipe can be made ahead to this point and refrigerated for up to 12 hours.
Spoon tomato sauce down the center of each zucchini. Sprinkle with Parmesan cheese. Bake for 20 to 25 minutes or until zucchinis are tender, filling is hot, and top is golden brown.