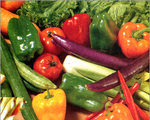 Prep: 35 min
Cook Time: 40 min
Total: 1 hr 15 min
Serving: 6
Stuffed Vegetable Provencale is filled with sausage and mushrooms.
Ingredients
3 medium onions
3 tomatoes
2 zucchini
3 cups mushrooms, chopped and cooked
1/2 cup sausage, removed from casing and cooked
3 eggs, beaten
salt and freshly ground pepper
1/4 teaspoon hot red pepper flakes
1/4 cup Parmesan cheese, grated
3 tablespoons butter
Directions
Preheat oven to 350 degrees F.
Peel onions and chop off the top quarter. Scoop out the center until hollow. Set aside. Slice off the blossom end of each tomato and scoop out the center until hollow. Set aside. Slice the zucchini in half lengthwise. Scoop out center, creating a boat to hold the stuffing.
Place cooked mushrooms, crumbled sausage, egg, salt, pepper and red pepper flakes in a bowl. Stir until well combined. Fill each vegetable cavity with the stuffing mixture. Place the stuffed vegetables into a roasting pan. Sprinkle with Parmesan cheese. Dot with butter.
Bake for about 40 minutes until golden and bubbly. Serve with a spoonful of the juices from the bottom of the pan.