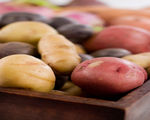 Prep: 15 min
Cook Time: 1 hr 10 min
Total: 1 hr 25 min
Serving: 6
These are delicious, feel free to add your on ingredients to the stuffing. You can also top with cheddar cheese instead of the parmesan.
Ingredients
3 baking poatoes
1/3 cup plain yogurt
3 tablespoon minced chives
1 1/2 tablespoons milk
1/4 teaspoon salt
1/4 teaspoon garlic powder
1/4 teaspoon white pepper
3 tablespoons grated parmesan cheese
1 1/2 teaspoon paprika
Directions
Clean potatoes thoroughly.
Prick with a fork.
Bake at 400 degrees F for 1 hour or until tender.
Allow potatoes to cool to touch.
Cut in half lengthwise.
Scoop out pulp, leaving shells intact.
In a bowl combine potatoe pulp and next 6 ingredients.
Beat until light and fluffy.
Stuff shells with potato mixture.
Combine parmesan cheese and paprika.
Sprinkle over potatoes.
Place on a cookie sheet.
Bake at 400 degrees F for 10 minutes.