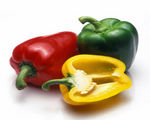 Prep: 1 hr
Cook Time: 20 min
Total: 1 hr 20 min
Serving: 6
Mmmm, mmmm peppers filled with sweet corn, summer squash and extra-lean ground pork, topped with a blanket of chipotle tomato sauce. A melange of colors, tastes and textures sure make you sit and slowly eat. Poblanos, red, orange, or yellow bell peppers far surpass the weak flavored green bell pepper. This recipe was brought to you from The Fitness Kitchen by Shelly Sinton.
Ingredients
3 pounds of large bell peppers (about 6) or large poblanos (about 12)
8 medium sized ripe tomatoes (about 1 ½ pounds)
1 large (8 ounce) onion, cut into eighths
6 large garlic cloves, unpeeled
Pinch of salt
Black pepper to taste
1 chipotle chili canned in adobo sauce*
2 bay leaves
1 ¼ pounds extra-lean (3% fat) ground pork
1 tablespoon chile powder
Pinch of salt
2 ears of corn, kernels removed (or 1 ½ cups of frozen, thawed, drained)
1 (5 ounce) zucchini, finely chopped (about 1 cup)
2 large green onions, green and white parts finely chopped (about ¼ cup)
2 tablespoons minced fresh cilantro
1 cup (4 ounces) reduced-fat Mexican blend cheese (or cheese of your choice)
Directions
Preheat 500 degrees F.
Line two large rimmed baking sheets (or jellyroll pans) with foil.
To roast vegetables:
Remove and discard the stems and cores of the peppers and tomatoes, leaving them whole.
Place peppers, tomatoes, onion wedges, and garlic cloves on one baking sheet.
Roast in oven for 30 minutes, turning ingredients occasionally to evenly brown.
The skins of the peppers and tomatoes will wrinkle. Remove from oven and set aside to cool enough to handle.
Using your fingers or tongs, peel off and discard the skins of the tomatoes and garlic cloves.
You may also peel the peppers, but I recommend keeping the flavorful skins intact.
For tomato sauce:
Place tomatoes, onions, garlic and chipotle in a food processor or blender and mix until just combined for a chunky texture or longer for smooth.
Pour into a medium-sized nonstick saucepan with the bay leaves and simmer on low heat, stirring occasionally, until reduced to about 2 ½ cups, about 25 minutes.
Set aside and remove bay leaves.
For pork filling:
Meanwhile, heat a large nonstick skillet on high. Add pork, chile powder, and salt and cook, stirring often, until pork is browned, about 5 minutes.
Drain off any fat (there won't be much, if any) and reduce heat to medium.
Stir in corn, zucchini and green onions, cooking 2 to 3 more minutes.
Add cilantro and cook for another minute.
Remove from heat and stir in cheese until mixed well.
Carefully stuff pork filling into the roasted peppers and place on the second lined baking sheet.
If using bell peppers, stand them next to each other. If using poblanos, arrange them on their sides.
Bake in oven for 20 minutes to heat filling.
To serve, spoon half of the tomato sauce onto a serving platter or equally onto individual plates. Place peppers on top of sauce.
Spoon remaining sauce over peppers.
Garnish with additional chopped green onions or cilantro.
Serve immediately with flour or corn tortillas.