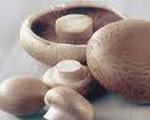 Prep: 45 min
Cook Time: 10 min
Total: 55 min
Serving: 6-8
Get the extra large mushrooms for these Stuffed Mushroom Caps.
Ingredients
12 large mushrooms
2 tablespoons vegetable oil
1 small onion, finely chopped
1/4 pound Italian sausage
2 slices prosciutto ham, coarsely chopped
1/3 cup dry sherry
1/4 cup seasoned bread crumbs
1 teaspoon garlic powder
1 teaspoon salt
1/2 teaspoon pepper
1/4 cup Parmesan cheese, grated
Directions
Remove stems from mushrooms. Chop stems fine and set aside.
Place mushroom caps on baking sheet.
Heat oil in skillet and cook onion and sausage until lightly browned.
Add stems, ham and sherry to onion sausage mixture. Cook 5 minutes.
Add bread crumbs, garlic powder, salt and pepper. Mix well. Stuff mixture into mushroom caps. Sprinkle with cheese.
Broil mushrooms 3" from heat for 3-5 minutes. Serve hot.