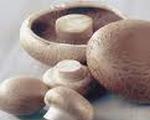 Prep: 1 hr 20 min
Cook Time: 10 min
Total: 1 hr 30 min
Serving: 24
The mushrooms are marinaded for 1 hour in soy sauce before they become Stuffed Mushroom Caps.
Ingredients
2 dozen large mushrooms
1/2 cup soy sauce
1/2 pound ground beef
1/4 cup green pepper, minced
2 tablespoons bread crumbs
1 egg yolk
1 tablespoon onion, minced
1/2 clove garlic
1/4 teaspoon each pepper and salt
Directions
Remove stems from mushrooms. Marinate caps for 1 hour in soy sauce. Chop stems finely. Combine stems with remaining ingredients in bowl, mixing well.
Drain mushroom caps. Stuff caps with meat mixture. Brush tops with soy sauce. Broil for 8 to 10 minutes.