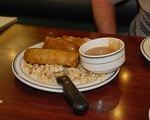 Prep: –
Cook Time: –
Total: –
Serving:
Ingredients
1 3/4 cups matzoh meal
1 medium onion, grated fine
1 large carrot, grated fine
3/4 teaspoon salt, or to taste
1/4 teaspoon pepper, or to taste
1 large celery rib, grated fine
4 tablespoons melted margarine
Directions
Preheat oven to 350 degrees F. Mix ingredients together and shape into two long rolls, each about 2 inches in diameter. Grease two pieces of aluminum foil. Place rolls on foil and wrap tightly, but don't squeeze.
Bake rolls for 1 hour, then open foil and bake another 15 minutes, until lightly browned. Cool slightly before slicing. May be made in advance and served cold, or reheated for about 10 minutes in oven.