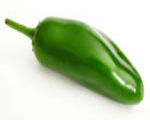 Prep: 10 min
Cook Time: 15 min
Total: 25 min
Serving: 12
A frequent player at tailgate feasts, spicy jalapenos are stuffed with succulent shrimp, wrapped with smoky bacon and cooked to tender perfection. Classic recipes often include cheese and one long high-fat strip of bacon per jalapeno. This pared down version keeps the delicious elements that make these bites so satisfying but with less fat and calories. Double the recipe if feeding a crowd. Serve with a tangy cocktail sauce or light sour cream.
Ingredients
12 large jalapenos, stem tops and seeds removed
12 medium raw shrimp, peeled, deveined*, tails removed
6 slices of extra lean turkey bacon, cut in half crosswise
Toothpicks or skewers
Directions
Baked:
Preheat oven to 350 degrees F.
Line a baking sheet with foil.
Soak 12 toothpicks in water for at least 15 minutes to prevent the wood from burning in the oven.
Stuff one shrimp into one jalapeno.
Wrap with half a slice of bacon and secure with a toothpick.
Arrange stuffed jalapenos on the baking sheet and bake until bacon is cooked and shrimp is pink, about 10 to 15 minutes.
Remove from oven and let cool slightly.
Grilled or Broiled:
You will need 6 metal, wooden or bamboo skewers.
If using wooden or bamboo skewers, soak them in water for 30 minutes to keep them from catching fire while cooking.
Preheat grill to medium-high or preheat broiler (lightly oil a grill pan).
Stuff one shrimp into one jalapeno and wrap with half a slice of bacon.
Slide a skewer through top half of wrapped jalapeno and a second skewer through bottom half.
This will secure bacon and keep jalapenos from twirling when flipping.
Repeat with remaining ingredients.
Arrange 4 stuffed jalapenos per each pair of skewers.
Place skewers on grill or on grill pan placed under broiler.
Cook until bacon is cooked and shrimp is pink, about 2 to 3 minutes per side.