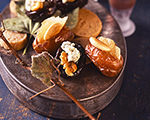 Prep: 25 min
Cook Time: 5 min
Total: 30 min
Serving: 48 appetizers
Pour yourself a glass of vintage port and enjoy these stuffed pieces of dried fruit with blue cheese and crystallized ginger.
Ingredients
1 tablespoon butter
24 whole almonds
24 walnut halves
24 (9 ounces) pitted dried plums
2 ounces blue cheese, cut into 24 chunks
24 (6 ounces) pitted dried dates
24 small pieces crystallized ginger
Directions
Place the butter in a small skillet or sauté pan, and melt over medium-high heat.
When the butter begins to sizzle, add the almonds and the walnuts and cook for 5 minutes, stirring occasionally.
Using a small spoon, stuff the walnut mixture into the dried plums and top with a chunk of the blue cheese; place on a small serving platter.
Fill each date with some of the walnut mixture and a piece of ginger. Add to the serving platter.