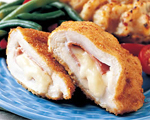 Prep: 40 min
Cook Time: 25 min
Total: 1 hr 5 min
Serving: 4 Servings
Otherwise known as "Chicken Cordon Bleu," this delicious dish can be paired with Brussels sprouts and cranberry chutney to create the perfect fall meal.
Ingredients
4 chicken breasts skinless and boneless
4 thin slices prosciutto di Parma
1/2 pound Gruyere, grated
1/4 cup all-purpose flour
Sea salt and freshly ground black pepper
1 cup panko bread crumbs
4 sprigs fresh thyme, leaves only
1 clove garlic, peeled and finely minced
2 tablespoons unsalted butter, melted
2 eggs
Extra-virgin olive oil
Directions
Preheat the oven to 350 degrees and grease a baking pan with olive oil.
Place the chicken between two large pieces of cling film and pound with a meat mallet until chicken is 1/4-inch thick.
Remove the top sheet of cling film and place 2 slices of prosciutto on each chicken breast and then top with 1/4 of the cheese.
Fold in the sides of the chicken breast and then roll up like a jellyroll along with the cling film. The chicken breast roll will be enclosed within the cling film. Twist the sides of the paper and set aside. Repeat with the other 3 breasts.
Place the flour in a shallow bowl and sprinkle with salt and pepper. In another shallow bowl, mix the bread crumbs with thyme, garlic and kosher salt, pepper, and melted butter.
In a third shallow bowl, beat the eggs with a fork and sprinkle with salt and pepper.
Take the cling film off of the chicken breast rolls and lightly dredge the chicken in flour. Next dip into the egg mixture and carefully dredge in the breadcrumbs. Repeat with other 3 rolls and place in prepared baking dish.
Bake the chicken for 25 minutes, remove from oven and serve immediately.