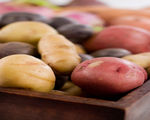 Prep: 20 min
Cook Time: 1 hr
Total: 1 hr 20 min
Serving: 4
Stuffed Cheesy potatoes are so yummy that no body can resist having it once.
Ingredients
4 large potatoes (washed and peeled)
4 tbsp butter (softened)
3/4 cup sour cream
3/4 tsp salt
1/4 tsp black pepper
1/2 tsp Paprika
4 tsp Cheddar cheese (shredded)
Directions
Bake the potatoes in an oven at 350 degrees until cooked.
Cut the potatoes into halves.
Take out the pulpy scoop out of the potatoes and mash well.
Add sour cream, butter, salt and pepper to it. Beat well.
Fill the potatoes with this stuffing potato stuffing.
Sprinkle the cheese and paprika over it.
Bake these in an oven at about 425 degrees until potatoes are heated through.