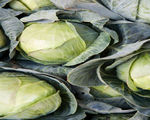 Prep: 15 min
Cook Time: 5 hr
Total: 5 hr 15 min
Serving: 6
This is a tasty dish to serve on St. Patrick's day.
Ingredients
1 pound corned beef
1 onion, chopped
4 cups chopped cabbage
1 green pepper, chopped
1 cup uncooked instant rice
1 cup water
1 small can tomato paste
1 can diced tomatoes, undrained (14½ oz.)
1/4 cup ketchup
2 tbsp. vinegar
1 tbsp. Worcestershire sauce
1 tsp. salt
1/2 tsp. pepper
1/2 tsp. garlic powder
Directions
In a skillet, cook beef and onion over medium heat until meat is no longer pink.
Drain.
Transfer to a crok pot.
Add cabbage, green pepper and rice.
In a bowl, combine the water and tomato paste.
Stir in the remaining ingredients.
Pour over beef mixture; mix well.
Cover and cook on low for 4-5 hours or until rice and vegetables are tender.