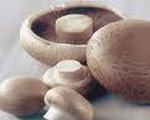 Prep: 25 min
Cook Time: 10 min
Total: 35 min
Serving: 12
Stuffed Broiled Mushrooms are filled with Italian herbs and Cheddar cheese.
Ingredients
24 medium mushrooms
1 small onion, chopped
1/4 pound sharp Cheddar cheese, grated
1-1/2 teaspoons Worcestershire sauce
hot pepper sauce
pinch of Italian herbs
1/2 teaspoon each salt, pepper
1/4 teaspoon garlic salt
3 tablespoons dry bread crumbs
1/4 cup margarine
paprika
Directions
Clean mushrooms. Remove stems; set caps aside. Chop stems very fine. Mix with onion and cheese. Add 1 teaspoon Worcestershire sauce, dash of hot pepper sauce, Italian herbs, seasonings and bread crumbs.
Melt margarine; add dash of hot pepper sauce and 1/2 teaspoon Worcestershire sauce. Place 1/2 teaspoon seasoned margarine into each mushroom cap. Add remaining margarine to cheese mixture; mix well.
Stuff caps with mixture; sprinkle with paprika. Place on broiler pan. Broil until cheese melts. Serve hot.