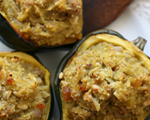 Prep: 25 min
Cook Time: 1 hr 11 min
Total: 1 hr 36 min
Serving: 4 Servings
Not only is this savory and sweet dish delicious, but its presentation is also fantastic. Serve as a side dish to a meat entrée.
Ingredients
2 medium acorn squash
3/4 cup of chicken broth
1/4 apple juice
1 box of plain couscous
2 tablespoons olive oil
2 shallots, minced
3 cloves garlic, minced
3/4 cup of dried cranberries
1 red apple, chopped into small pieces
3/4 cup of dried nectarines, chopped into small pieces
1/2 cup of crushed pecans
Sea salt
1/2 cup of brown sugar
2 tablespoons butter, melted
1 tablespoon cinnamon
Directions
Preheat the oven to 350 degrees.
Cut the squash in half and scoop out the seeds. Steam each half of squash for 12 minutes and then set aside to cool.
Cook the couscous according to package directions, substituting the water for the apple juice and the chicken broth, and set aside.
In a medium sauté pan, heat the olive oil and sauté the garlic and shallots for 4 minutes and then toss in the couscous, apple and cranberries. Stir well to combine, then sprinkle with the salt, pecans and cinnamon.
Drizzle 1/2 tablespoon of butter into each squash half and sprinkle evenly with the brown sugar. Bake in oven for 15 minutes.
Remove squash and fill with couscous mixture and then cover tightly with foil. Bake for 30 minutes covered, and then remove foil and continue to cook for 10 additional minutes. Serve hot.