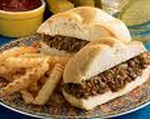 Prep: 15 min
Cook Time: 35 min
Total: 50 min
Serving: 6
Stromboli is a flavorful Italian sandwich served hot right out of the oven.
Ingredients
1 pound ground beef
1 tablespoon onion, finely chopped
1/2 cup tomato sauce
1/2 cup ketchup
2 tablespoons Parmesan cheese, grated
1/2 teaspoon garlic powder
1/4 teaspoon fennel seed
1/8 teaspoon oregano
6 Kaiser rolls
6 slices Mozzarella cheese
1 jar garlic butter spread
Directions
Brown beef and onion, stirring frequently to break apart the meat. Add tomato sauce, ketchup, Parmesan cheese, garlic powder, fennel seed and oregano; cook for 20 minutes.
Split rolls and spread with about 1 teaspoon garlic butter spread on top half of roll. Divide meat mixture evenly on bottom halves of rolls. Top each with a slice of Mozzarella and close sandwich with bun top. Wrap each sandwich in foil.
Bake at 350 degrees F for 15 minutes or until cheese is melted. Serve immediately.