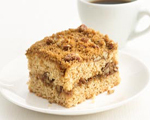 Prep: 20 min
Cook Time: 50 min
Total: 1 hr 10 min
Serving: 12 People
Serve this moist coffee cake over tea or coffee.
Ingredients
3 tablespoons instant coffee, divided
2 tablespoons water
1-3/4 cups flour
2 teaspoons baking powder
1 teaspoon baking soda
1/2 teaspoon salt
1 stick butter
1 cup sugar
2 eggs
1 cup sour cream
1/2 cup brown sugar
1/3 cup chopped hazelnuts or walnuts
1/4 teaspoon cinnamon
Directions
Preheat oven to 350 degrees.
Combine 2 tablespoons instant coffee and water; blend well.
In a separate bowl, mix together flour, baking powder, baking soda and salt.
Cream butter and sugar until light and fluffy. Add eggs; beat well.
Stir in coffee mixture. Add flour combination and sour cream. Mix thoroughly.
In a small bowl, mix brown sugar, remaining instant coffee, nuts and cinnamon.
Pour 3/4 of batter into prepared baking dish. Sprinkle 1/2 of brown sugar mixture over top.
Pour remaining batter over sugar mixture. Sprinkle remaining half of brown sugar mixture over all.
Bake at 350 degrees for 50 minutes.