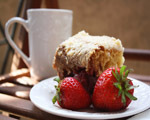 Prep: 15 min
Cook Time: 30 min
Total: 45 min
Serving: 8-10 People
Impress your friends with this sweet coffee cake at your next breakfast meeting.
Ingredients
2 cups flour
1/2 cup sugar
1/2 cup powdered milk
1 teaspoon baking soda
1/2 teaspoon salt
1 teaspoon cinnamon
1 teaspoon nutmeg
3 eggs
1/2 cup vegetable oil
1/2 cup applesauce
1 cup strawberries, chopped
1/2 cup sugar
1/3 cup flour
1/4 cup butter
1/2 teaspoon cinnamon
Directions
Combine 2 cups flour , 1/2 cup sugar, powdered milk, baking soda, salt, 1 teaspoon cinnamon and nutmeg; set aside.
Mix together eggs, vegetable oil and applesauce.
Blend flour combination into egg mixture.
Fold in strawberries.
Pour batter into a greased 8x8 baking dish.
In a small bowl, mix together 1/2 cup sugar, 1/3 cup flour, butter and 1/2 teaspoon cinnamon until mixture becomes crumbly; sprinkle over top of cake batter.
Bake at 350 degrees for 25-30 minutes.