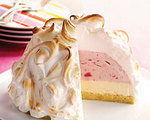 Prep: –
Cook Time: 5 min
Total: 5 min
Serving: Makes 12 servings
Have you ever wondered what desserts were like decades ago, before celebrity chefs, cupcake bakeries, and diet sweets were in style? Sure, the fancy neo-desserts of today are innovative—and many are awe-inspiring—but the desserts of the '40s, '50s, and '60s never go out of style. Here is a retro dessert recipe (with a slight updated twist) to give you a taste of the desserts your parents and grandparents grew up on.
Ingredients
Nonstick cooking spray
4 large eggs
1/2 cup granulated sugar
1 1/2 teaspoons vanilla extract
3/4 cup sifted cake flour
1 tablespoon poppy seeds
6 tablespoons unsalted butter, melted
2 pints strawberry sorbet, softened
1 quart strawberry ice cream, softened
6 large egg whites
3/4 cup granulated sugar
1/2 teaspoon pure vanilla extract
Directions
Preheat oven to 350 degrees F. Coat a 9-inch round springform pan with cooking spray.
Whisk eggs, sugar, and vanilla together in a large bowl. Set bowl over a pot of boiling water, not letting the bowl touch the water. Whisk continually to warm through, about 2 minutes.
Remove bowl from heat and beat with a hand mixer for about 7 minutes, or until mixture is very thick. Gradually add flour, folding well after each addition. Fold in poppy seeds, then butter (in two steps). Pour batter into prepared pan.
Bake cake for 28 minutes, or until a toothpick comes out clean. Let cake cool, then remove sides.
Line a 10-inch round bowl with plastic wrap leaving an 8-inch overhang. Spoon sorbet into bottom of bowl, then top with ice cream. Place cake over ice cream, pressing gently. Cover cake with plastic wrap and freeze overnight.
To make a meringue: beat egg whites until soft peaks form. Gradually beat in sugar, then vanilla. Unfold plastic wrap from cake and flip over onto a round pan. Remove plastic wrap. Spread meringue onto ice cream and re-freeze for at least 30 minutes.
Preheat oven to 500 degrees F. Place cake on a large baking sheet and bake about 5 minutes. Serve immediately.