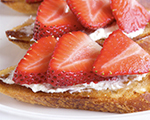 Prep: 5 min
Cook Time: 6 min
Total: 11 min
Serving: 4 Servings
This recipe takes a classic Italian concept of topping toasted bread, and turns it into a sweet treat for the entire family.
Ingredients
4 thick slices whole-wheat bread
6 tablespoons light brown sugar
1 teaspoon grated lemon zest
2 teaspoons lemon juice
3 cups sliced or diced hulled strawberries
4 tablespoons mascarpone
Directions
Toast the bread slices for about 3 minutes.
In the meantime, place the sugar, lemon zest and lemon juice in a medium-sized saucepan over medium-high heat, and cook, stirring frequently, for 2 minutes.
Drop in the strawberries, stir and continue to cook for 1 minute.
Spread the prepared bread slices with 1 tablespoon of the mascarpone cheese, and then evenly spoon on the strawberry mixture.