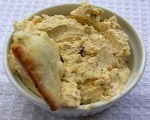 Prep: 10 min
Cook Time: 5 min
Total: 15 min
Serving: Serves 8 people
Stout & Irish Cheddar Spread is the perfect appetizer to help you celebrate St. Patrick's Day! Easy to make and a tasty treat!
Ingredients
1 loaf crunchy artisan bread, sliced into 2-inch pieces
4 tablespoons unsalted butter
1 shallot, finely chopped
1 clove garlic, minced
2 ounces of stout beer
6 ounces sharp cheddar cheese, grated (Dubliner works well)
2 ounces cream cheese, slightly softened
1/2 teaspoon cayenne pepper
Salt & ground black pepper to taste
2 tablespoons parsley, chopped
Directions
Melt the butter in a small skillet over medium heat. Add the shallot and sauté until it's soft. Add the garlic and cook for another 1-2 minutes. Let the mixture cool. Once cool, add to a food processor.
To the initial mixture in the food processor, add the beer, cheeses and cayenne pepper. Blend until all is smooth. Season with the salt and pepper. Chill for several hours prior to serving. When ready to serve, garnish with the parsley and serve with the artesian bread.