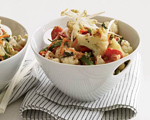 Prep: 15 min
Cook Time: 10 min
Total: 25 min
Serving: 4 Servings
Lemongrass is a lemony, brightly scented and flavored Southeastern Asian herb that is widely used in Asian cooking. Try it in this vegetarian stir-fry served over steamed rice.
Ingredients
2 large stalks of fresh lemongrass, white bulb only thinly sliced and finely chopped
3 tablespoons vegetable oil
3 large shallots, thinly sliced
1 pound cauliflower, cut into 1-inch florets 4 cups
12 asparagus spears, cut into 1-inch lengths
1/2 cup shredded carrots, about 2 medium
1 red bell pepper, cut into 1-inch pieces
3/4 cup water
1/2 cup unsweetened coconut milk
3 tablespoons soy sauce
Freshly ground pepper
1/2 cup chopped basil
1 cup mung bean sprouts
Directions
Place the oil into a large sauté pan over high heat. Once the pan is hot, add the lemongrass and the shallots and sauté for 2 minutes.
Stir in half the water and then add the cauliflower, asparagus, carrots and red bell pepper. Reduce the heat to medium-high, cover the pan and cook for 3 minutes. Add the reaming water, coconut milk and soy sauce, stir to combine and then bring the mixture to a simmer.
Remove the pan from the heat; season the mixture to taste with some salt and pepper. Add the basil and the bean sprouts, toss to combine and then serve immediately.