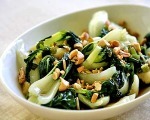 Prep: 10 min
Cook Time: 20 min
Total: 30 min
Serving: Serves 4 people
Stir Fried Bok Choy and Cashews makes a great side dish or you can serve it over rice or noodles. The accompanying sauce gives it the tang.
Ingredients
7 ounces bok choy, shredded
3 tablespoons peanut oil
3 scallions, sliced
2 garlic cloves, cut into slivers
1-inch cube of fresh ginger, cut into slivers
1 carrot, cut into thin slices
2/3 cup bean sprouts
1/2 cup unsalted cashews
3 tablespoons low-sodium soy sauce
2 tablespoons dry sherry or vermouth
1 tablespoon sesame oil
2/3 cup cold water
1 teaspoon cornstarch
1 teaspoon honey
Freshly ground black pepper to taste
Directions
Using a large wok or fry pan over medium heat, add the peanut oil and stir fry the onions, garlic, ginger and carrot for about 2-3 minutes. Add the bean sprouts and stir fry for another 2 minutes, constantly stirring.
In a small bowl, whisk together the soy sauce, sherry or vermouth, sesame oil, water, cornstarch, honey and pepper. Add the bok choy and cashews to the pan and stir fry until the leaves are just wilting. Add the sauce mixture and stir all together. Serve immediately.