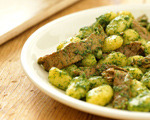 Prep: 12 min
Cook Time: –
Total: 12 min
Serving: 2 Servings
Hot Gnocchi is tossed to coat with a fresh pesto sauce and then topped with thin slices of sautéed sirloin steak in this fabulous dinner recipe. Accompany the meal with a bottle of Cabernet Sauvignon.
Ingredients
1/2 pound sirloin steak, thinly sliced
2 tablespoons plus 1/2 cup olive oil
Sea salt and freshly ground black pepper
1/2 pound gnocchi
1-3/4 cups flat-leaf parsley, torn
3 cloves garlic, smashed
1/4 cup roasted pecans, broken
1/2 cup dry aged goat cheese, grated
Directions
Cook the gnocchi according to package directions, drain and place back into the pot.
In the meantime, place the 2 tablespoons of olive oil into a large sauté pan over medium-high heat. Once the oil begins to shimmer, add the steak slices and sauté until the meat is only slightly pink. Sprinkle with salt and pepper and then transfer to the pot with the cooked gnocchi.
Put the 1/2 cup olive oil, parsley, garlic, pecans, goat cheese and a few pinches of salt and pepper into a mortar and pestle or a food processor, and mash or process the mixture until well combined.
Add the pesto to the sautéed beef and gnocchi, toss to coat and then serve immediately.