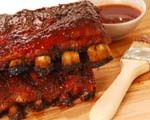 Prep: –
Cook Time: –
Total: –
Serving: 4 to 6 servings
Summer is the season to barbecue and sink your teeth into satisfying grilled meats. These sticky and sweet ribs are ideal for grilling. Whether you are planning a big barbecue party or just a family dinner, everyone will love these delicious barbecue ribs.
Here's all you need to know to make great ribs: Pre-cook them first, and then finish them on the grill with a great sauce (which follows below, of course). Do that and you'll be a fricking rib genius. To pre-cook them, though, I roast them in the oven. I do not subscribe to the "boiling them in a large pot of water" theory. Because apart from boiling away the flavor, boiled meat sounds absolutely disgusting to me.
Ingredients
2 racks pork back ribs, 5 to 6 pounds
4 tablespoons white vinegar
1/2 cup plain barbecue sauce
1/4 cup Newcastle Brown Ale
1 cup brown sugar
Directions
Preheat oven to 400 degrees F.
Place ribs and vinegar in a large baking or casserole dish, cover tightly with aluminum foil and bake about 60 minutes or until very tender.
While they cook, combine bbq sauce, Newcastle and brown sugar in a small bowl. Mix well and set aside.
When ribs are done, remove from oven and carefully lift off the foil – there will be a ton of steam. The ribs are now fully cooked and just need to be finished on the grill.
Heat your grill to medium/high and place ribs meat side down without sauce, but you can baste the top with the sauce.
Cook until they start to develop nice grill marks, and turn over; now baste the top side. Now it's a matter of basting and letting the ribs get some great color on each side.
Give them one extra baste when they've been removed from the grill before serving.