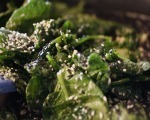 Prep: 10 hr
Cook Time: 10 min
Total: 10 hr 10 min
Serving: Serves 6 people
Steamed Spinach with Sesame Seeds makes a terrific side dish. Nutritious, tasty and easy to make. Great with so many meals.
Ingredients
1 tablespoon olive oil
1 garlic clove, crushed
1/2 teaspoon dark sesame oil
2 bunches of leaf spinach, rinsed with stems trimmed
1/2 teaspoon sesame seeds
Directions
In a small skillet over low heat, heat the olive oil. Add the garlic and cook for about 30-45 seconds. Remove from heat and add the sesame oil.
Steam the spinach in a vegetable steamer for about a minute or two, until wilted. Remove the steamed spinach to a serving platter. Top with the garlic and toss with the sesame seeds.