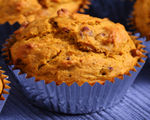 Prep: 15 min
Cook Time: 1 hr
Total: 1 hr 15 min
Serving: 8
Steaming isn't only for vegetables or rice. Steam heat can transform a cake or quick bread batter into a moist, mouth-watering treat.
Ingredients
Wet ingredients
1-1/2 cups canned pumpkin (or fresh)
2 tablespoons melted butter
1/4 cup lowfat 2 percent milk
1 egg, lightly beaten
Dry ingredients
In a large bowl, combine the following:
1 cup all-purpose flour
1/2 cup whole wheat flour
1/4 cup light packed brown sugar
1/4 cup granulated sugar
2 teaspoons baking powder
1/2 teaspoon baking soda
1 teaspoon cinnamon
1/2 teaspoon clove
1/2 teaspoon cumin
1/2 teaspoon salt
Directions
In a medium bowl, whisk together the wet ingredients.
In a large bowl, combine dry ingredients.
Spray a 9 x 5-inch loaf pan with nonstick cooking spray.
Gradually add the wet ingredients to the dry ingredients and mix until just moist. The batter will be thick.
Pour into the prepared pan and cover tightly with aluminum foil to prevent the water from entering the loaf pan. Set on a rack in a large, deep pot or kettle. Add the water to come halfway up the sides of the pan.
Bring the water to a gentle boil on medium-high heat, cover the pot, lower heat to medium and steam for about 60 minutes.
Bread is done when a toothpick inserted in the center comes out clean.