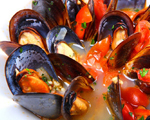 Prep: 15 min
Cook Time: 52 min
Total: 1 hr 7 min
Serving: 4 Servings
Enjoy the mussels in this dish, smothered with a curry marinara sauce. Serve with fresh, country-style bread so you can scoop up all the wonderful sauce.
Ingredients
1 16 ounce can of whole peeled tomatoes
3 tablespoons of ketchup
6 garlic cloves, minced
1 onion, chopped
1/2 cup chicken stock
2 teaspoons thyme
3 basil leaves, chopped
1/2 teaspoon sugar
1 pound of mussels
1 teaspoon of curry
1/2 cup fish stock
Fresh parsley to garnish
Directions
In a medium-sized sauté pan, heat the oil over medium-high heat until hot but not smoking. Add the onions and sauté until soft and translucent, approximately 6 minutes, and then add the ketchup and continue to cook for 1 more minute.
Add the tomatoes, stock, basil, sugar and thyme and bring to a simmer. Reduce the heat to medium-low and continue to simmer the sauce for 40 minutes.
Empty the marinara in a dutch oven and set over medium heat. Add the curry and the fish stock and stir well.
Drop in the mussels and gently stir for 4 minutes as they cook. Discard any mussels that do not open.
Garnish with fresh parsley and serve immediately.