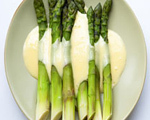 Prep: 5 min
Cook Time: 8 min
Total: 13 min
Serving: 6 Servings
Drizzling hot, steamed asparagus with a tarragon tofu sauce creates an elegant and delicately flavored side dish with an appealing aroma.
Ingredients
1 pound asparagus
1 cup mashed soft tofu (about 8 ounces)
2 tablespoons lemon juice
1 tablespoon Dijon mustard
1/2 teaspoon salt
2 tablespoon finely chopped shallot (about 1 large)
1 clove garlic, finely chopped
1 tablespoon fresh tarragon, chopped
2 teaspoons olive or vegetable oil
Directions
Place the asparagus in a steamer basket over a saucepan of boiling water, and steam for 8 minutes.
In the meantime, put the tofu, lemon juice, mustard, salt, shallot, garlic and tarragon into a food processor and process until smooth. With the processor's motor running, slowly pour the oil down the processor flute and blend until combined.
Drizzle the sauce over the hot asparagus and serve immediately.