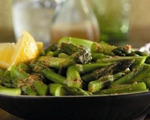 Prep: 10 min
Cook Time: 4 min
Total: 14 min
Serving: 8 servings
The mild taste of steamed asparagus is given an explosion of flavor when tossed with a flavorful tahini, ginger and red pepper sauce.
Photo originally appeared on kitchendaily.com
Ingredients
1 tablespoon soy sauce
1 tablespoon rice vinegar
1 tablespoon peanut oil
1 tablespoon water
1 tablespoon tahini (pureed sesame seeds)
1 teaspoon chopped fresh ginger
1/2 teaspoon chopped garlic
1 tablespoon sugar
1 pinch red pepper flakes
2 bunches asparagus, trimmed and cut into 2-inch pieces
Directions
Place the asparagus into a steam basket over a pot of boiling water, and steam for 4 minutes until crisp tender.
In the meantime, place the soy sauce, rice vinegar, peanut oil, water, tahini, ginger, garlic, sugar and red pepper flakes into a blender and process until the mixture is smooth.
Transfer the hot asparagus to a serving platter and then top with the tahini sauce. Gently toss to combine and serve.