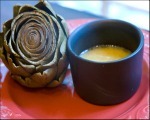 Prep: 10 min
Cook Time: 45 min
Total: 55 min
Serving: Serves 2 people
Many people have only eaten artichokes when served as a dip. Spring is the perfect time to try something new, like Steamed Artichokes with Vinaigrette Dipping Sauce. Dip the leaves of the artichoke into a sauce and scrape the fleshy part off with your teeth.
Ingredients
2 large artichokes
1/4 teaspoon salt
3 tablespoons water
2 tablespoons olive oil
1-1/2 tablespoons balsamic vinegar
1 teaspoon shallot, minced
1/2 clove garlic, minced
Salt & pepper to taste
Directions
Boil a large pot of water. In the meantime, cut the top quarter off the artichokes and remove the stem. Sprinkle the tops with 1/4 teaspoon salt and put them in a steamer basket over the boiling water. Cook for 45 minutes.
To make the dipping sauce, whisk together the olive oil, balsamic vinegar, shallot, garlic and salt & pepper and set aside.
Serve the artichokes warm with the dipping sauce.