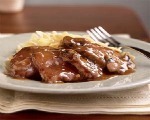 Prep: 10 min
Cook Time: 10 min
Total: 20 min
Serving: Serves 4 people
Steak Marsala is a classic dish with a rich mushroom sauce. This recipes turns an ordinary dinner into a special treat. Serve with pasta on the side and a fresh green salad.
Ingredients
12 ounces boneless sirloin steak cut 1-inch thick
2 cups sliced fresh mushrooms
1 medium onion, sliced and separated into rings
1/3 cup dry Marsala
1/4 cup water
2 tablespoons fresh parsley
1/2 teaspoon instant beef bouillon
1/8 teaspoon ground black pepper
Non-stick cooking spray
Directions
Trim the fat from the beef. Place it on the unheated rack of a broiler pan. Broil the beef about 5 inches away from the heat until it is cooked to your preference, turning it once during cooking.
Meanwhile, spray a large skillet with the non-stick cooking spray. Cook the mushrooms and onion in the skillet over medium heat until they're tender. Stir in the Marsala, water, parsley, bouillon and pepper. Bring the mixture to a boil and allow to continue boiling for about 5 minutes, or until the liquid is almost evaporated.
To serve, thinly slice the beef and drizzle the sauce on top of it.