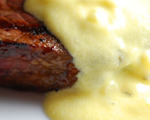 Prep: 15 min
Cook Time: 15 min
Total: 30 min
Serving: 4 Servings
Grilled beef tenderloin steaks are topped with a creamy Béarnaise sauce turning a classic steak dinner into an elegant and sophisticated meal. Accompany the dish with a bottle of red wine.
Ingredients
4 7-ounce beef tenderloin steaks
1 tablespoon olive oil
Sea salt and freshly ground pepper
2 tablespoons white wine vinegar
2 tablespoons white wine
1 tablespoons chives, snipped
3 large egg yolks
2 tablespoons Italian parsley, chopped
1-3/4 sticks butter (14 tablespoons), melted
Directions
Prepare your gill on high heat.
Rub the steaks with olive oil and then sprinkle with salt and pepper on both sides. Place the steaks on the hot grill and cook for 10-15 minutes depending on preferred doneness.
In the meantime, place the vinegar, wine, chives and 1 tablespoon of the Italian parsley into a saucepan and bring to a boil. Boil the mixture until reduced to approximately 1 tablespoon of liquid and then set the pan aside to cool.
Place a small saucepan of water over high heat and bring to a boil. Top the small saucepan with the pan with the vinegar mixture and then add the eggs to the mixture and whisk to combine until thick. Slowly pour in the melted butter, whisking continuously to blend, and then add a pinch of salt and pepper and the parsley; serve immediately.