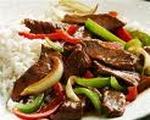 Prep: 30 min
Cook Time: 20 min
Total: 50 min
Serving: 4
Serve Steak and Vegetable Stir Fry over hot cooked rice and pass the soy sauce.
Ingredients
1 pound boneless round steak
1/4 cup soy sauce
1 clove garlic, crushed
1/2 teaspoon ground ginger
1/4 cup vegetable oil
1 cup green onion, thinly sliced
1/2 cup green pepper, cut into 1 inch squares
1/2 cup red pepper, cut into 1 inch squares
2 stalks celery, chopped
1 tablespoon cornstarch
1 cup water
2 tomatoes, cut into wedges
hot cooked rice
Directions
Partially freeze steak; slice across the grain into 2 by 1/4 inch strips and set aside. Combine next 3 ingredients in a shallow container, mixing well; add steak.
Heat oil in a large skillet. Add steak and soy sauce mixture to skillet; cook 2 to 3 minutes or until meat is browned. Stir in onions, peppers and celery; cook 5 minutes, stirring constantly, until vegetables are crisp-tender. Remove meat and vegetables from skillet; set aside.
Combine cornstarch and water, stirring until cornstarch dissolves. Add cornstarch mixture to liquid in skillet; cook, stirring constantly until smooth and thickened. Return meat and vegetables to skillet; stir well to coat. Serve over rice.