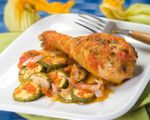 Prep: 5 min
Cook Time: 1 hr 15 min
Total: 1 hr 20 min
Serving: 6
Slipping a pineapple garlic mixture under the skin before roasting imbues chicken with a sweet island flair. This chicken stands up, not only in taste, but also in cooking.
Ingredients
1 (3 to 4 pound) roasting chicken
1 cup pineapple chunks
5 cloves garlic, minced
1 tablespoon dried thyme or 3 tablespoons fresh leaves
¼ teaspoon black pepper
Pinch salt
Toothpicks, soaked in water while you are preparing chicken
Directions
In a small bowl combine the pineapple, garlic, thyme, black pepper and salt.
Adjust an oven rack to the lowest position, removing other racks, and preheat oven to 425 degrees F.
Remove and discard the giblets, neck and excess fat from the chicken cavity.
Using kitchen shears or scissors, cut off the excess skin tucked into the top and bottom of chicken cavity.
Rinse chicken and pat dry.
Place chicken on a flat surface, breast up.
Separate chicken skin from the breast by carefully sliding your fingers underneath starting at the neck.
Lift skin from breast and legs without tearing it. Using your fingers, slide pineapple mixture over breast and thigh meat.
Stretch and secure skin with toothpicks at the top and bottom of breast.
Rub additional salt and pepper inside and outside of chicken (don't worry about the sodium, you aren't going to eat the skin anyway).
Open oven door and slide bottom rack out.
Set baking sheet or roasting pan on rack and place poultry stand or beer can in the center.
Slide chicken, legs pointing down, onto poultry stand or beer can.
Carefully slide rack back into oven.
Roast chicken for 1 to 1 ¼ hours or until skin is crisp and juices run clear when the part of thigh nearest the body is pricked with a knife.
An instant read thermometer inserted in the thigh should read 160 degrees or, in the breast, 150 degrees.
Remove from oven and let stand for 15 to 20 minutes tented with foil.
The chicken will continue to drain fat and the juices will distribute through.
Carefully remove from stand or can and set on serving platter or carving board to serve.