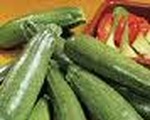 Prep: 1 hr 25 min
Cook Time: 25 min
Total: 1 hr 50 min
Serving:
Squash Relish is sweet and savory and a great way to preserve summer's generous squash harvest. This recipe makes 6 quarts.
Ingredients
2/3 cup salt
2 cups onion, chopped
2 cups bell pepper, chopped
8 cups squash, chopped
2 teaspoon celery seed
2 cups white vinegar
2 teaspoons mustard seed
3 cups sugar
1 large jar pimento, chopped
Directions
Dissolve salt in 3 quarts water in large kettle. Soak onion, pepper, pimento and squash in salted water for 1 hour. Drain. Bring remaining ingredients to a boil in large kettle. Add drained vegetables to syrup mixture. Bring to a boil.
Pour into hot sterilized jars leaving 1/2 inch headspace. Seal with sterilized lids.