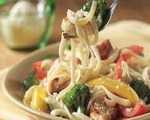 Prep: 15 min
Cook Time: 15 min
Total: 30 min
Serving: Serves 4-6 people
Springy pasta primavera is a perfect dish in the springtime season. Fresh vegetables add color and flavor to this pasta dish.
Ingredients
8 ounces uncooked linguine
1 tablespoon butter
2 green onions, sliced diagonally
1 clove garlic, minced
1 cup fresh mushrooms, sliced
1 cup broccoli florets
2-1/2 cups snow peas
8 asparagus spears, sliced diagonally into 2-inch pieces
1 medium red bell pepper, cut into thin stips
1/2 cup evaporated skim milk
1/2 teaspoon dried tarragon
1/2 teaspoon ground black pepper
1/3 cup Parmesan cheese
Directions
Cook the pasta according to the package directions. Drain it and set it aside.
Melt the butter in a large saucepan. Add the green onions and garlic and cook over medium heat until they're soft. Add the mushrooms and broccoli. Cover the pan and cook for about 3 minutes, or until the mushrooms are tender. Add the snow peas, asparagus, bell pepper, milk, tarragon and pepper. Cook stirring until the vegetables are crisp-tender. Make sure the vegetables are coated with the mixture.
Add the vegetables to the pasta and them the cheese. Toss everything together and mix well.