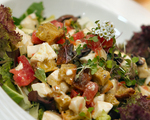 Prep: –
Cook Time: –
Total: –
Serving:
What better way to get in the mood for spring than with the classic Italian bread salad, panzanella. This dish, typical of the spring and summer months in Italy, is made with fresh tomatoes and basil, good olive oil and vinegar, and crusty day old bread. Panzanella sings its best flavors with ripe tomatoes and fresh basil, bringing an early taste of the warm months just waiting around the corner.
Ingredients
6 cups day-old bread, crust removed, cubed
1/2 cup extra virgin olive oil, divided
2 cloves garlic, finely chopped
6 tablespoons finely grated Parmesan, plus more for garnish
Salt and freshly ground black pepper
Half a red onion, finely diced
2 to 2-1/2 tablespoons white wine vinegar
Juice of half a lemon
1/2 teaspoon Dijon mustard
4 large leeks, trimmed, halved, and rinsed
1 pound asparagus, trimmed
1 (19-ounce) can of white beans, rinsed and drained
Directions
Preheat oven to 400 degrees F. Toss bread with 1/4 cup oil, garlic, Parmesan, and a pinch each of salt and pepper. Spread bread mixture onto a baking sheet and bake 10 to 15 minutes or until crispy, mixing a few times to toast evenly. Remove pan and reserve.
Combine onion with vinegar and lemon juice. Whisk remaining 1/4 cup olive oil and Dijon into vinegar mixture. Set aside.
Cook leeks in salted water for 15 to 20 minutes or until softened. Remove leeks with a slotted spoon and dunk in ice water. Using the same water, cook asparagus 2 to 3 minutes. Remove with a slotted spoon and dunk in ice water.
Slice leeks and asparagus into bite-sized pieces and combine in a large bowl with beans and croutons. Drizzle with vinegar Dijon mixture and sprinkle with salt and pepper.