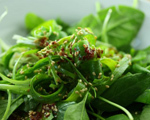 Prep: 25 min
Cook Time: –
Total: 25 min
Serving: 4 Servings
This simply elegant spring salad has a wonderfully fresh and clean taste that works well when accompanying heavier dishes made with creamy sauces.
Ingredients
5 spring onions soaked in cold water for 20 minutes
1-1/2 cups baby spinach leaves
2 tablespoons tamari
2 tablespoons water
1 tablespoon rice vinegar
1 tablespoon sesame oil
1 pinch light brown sugar
1 tablespoon red pepper flakes
1 tablespoon toasted sesame seeds
Directions
Remove the onions from the cold water and pat dry.
Place the spring onions and the baby spinach into a large salad bowl and toss to combine.
In another bowl, vigorously whisk together the tamari, water, rice vinegar, sesame oil, brown sugar, red pepper flakes and toasted sesame seeds until blended.
Drizzle the dressing over the salad, toss to coat and serve immediately.