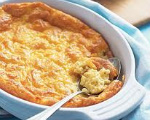 Prep: 30 min
Cook Time: 40 min
Total: 1 hr 10 min
Serving: 4-6 servings
Old fashioned spoon bread.
Ingredients
1 cup cornmeal
3 cups milk
1 teaspoon sugar
1 1/2 teaspoons salt
1 tablespoon butter
3 eggs (separated)
Directions
Preheat the oven to 375 degrees Fahrenheit. Grease a skillet or baking dish.
Scald the milk, slowly stir in the cornmeal until the mixture is mushy (about 10 minutes). Allow to cool for 5-10 minutes, then add in the salt, beaten egg yolks, butter and sugar.
Beat the egg whites until stiff, stir into the mixture. Pour into the prepared pans. Bake for 35-40 minutes.