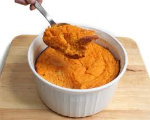 Prep: 2 hr
Cook Time: 20 min
Total: 2 hr 20 min
Serving: 12 muffins
Great side for soups and dinner.
Ingredients
1 package yeast
1/4 cup warm water
1/4 cup sugar
1/3 cup shortening
1/2 cold water
1 egg, slightly beaten
1 teaspoon salt
pinch alum
3/4 cup scalding milk
3 1/2 cups flour
Directions
Preheat oven to 400 degrees Fahrenheit. Grease a muffin pan.
In a large bowl dissolve the yeast in the warm water.
In another bowl mix together the sugar, salt, alum, shortening and scalded milk. Stir until the shortening has melted. Cool with 1/2 cup cold water.
Pour the shortening mixture and the egg in with the yeast. Add the flour and mix well.
Cover and let rise for 45-60 minutes. Push down with a spoon, and allow to rise again for another 45 minutes.
Spoon into the prepared muffin pan. Bake for 15-20 minutes.