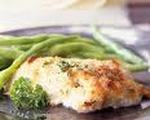 Prep: 10 min
Cook Time: 35 min
Total: 45 min
Serving: 6
Spinach Stuffed Fish Fillets are served on a bed of parsley rice.
Ingredients
1 cup regular long grain rice
butter
1, 10 ounce bag spinach
1 medium green onion, chopped
1/8 teaspoon pepper
1 slice white bread, cut into small pieces
paprika
salt
1 tablespoon dry white wine
1 teaspoon lemon juice
2 flounder fillets, 1/2 pound each
2 tablespoons minced parsley
lemon wedges
Directions
Prepare rice as package directs; keep warm.
Meanwhile in a skillet over medium heat, in 1 tablespoon butter, cook spinach and onion until tender, stirring occasionally. Remove skillet from heat; stir in pepper, bread 1/4 teaspoon paprika and 1/4 teaspoon salt.
Preheat oven to 350 degrees F. Place 3 tablespoons butter in a 13 by 9 inch baking pan; place in oven until butter melts. Remove baking pan from oven; stir in wine and lemon juice until blended.
Place one flounder fillet in butter mixture in pan; top with spinach mixture. Place second flounder filleton top of spinach mixture. Sprinkle with 1/4 teaspoon paprika and 1/4 teaspoon salt. Bake 15 minutes or until fish flakes easily when tested with a fork. Bast fish occasionally with butter mixture in pan.
To serve, toss rice with parsley. Serve alongside stuffed fish fillets. Garnish with lemon wedges.