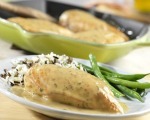 Prep: 15 min
Cook Time: 25 min
Total: 40 min
Serving: Serves 6 people
A lovely dish to serve guests, Spinach Stuffed Chicken with Dijon Sauce is elegant, easy to make and delicious! Serve with brown rice and steamed vegetables.
Ingredients
6 medium skinless, boneless chicken breast halves
1/4 cup low-fat cottage cheese
1/2 of a 10-ounce package of frozen spinach, thawed and well-drained
1 cup reduced-sodium chicken broth
2-1/2 teaspoons cornstarch
2 teaspoons coarse-grain brown mustard
1 egg white
2 tablespoons breadcrumbs
1/8 teaspoon garlic salt
Dash of nutmeg to taste
Directions
Use a small saucepan and add the broth, cornstarch and mustard. Whisk together well and set aside.
In a small mixing bowl, lightly beat the egg white. Stir in the spinach, cottage cheese, bread crumbs, garlic salt, pepper and nutmeg. Set aside.
Rinse the chicken and pat it dry. Make a pocket in each breast by cutting a horizontal slit through the thickest part. Be sure not to cut through to the other side. Divide the spinach mixture evenly for each breast and spoon the spinach mixture into each piece. Secure the pocket with toothpicks if necessary.
Using a broiler pan for the chicken, broil about 4-5 inches from the heat for about 15 minutes or until the chicken is no longer pink. Turn each breast once. While the chicken is cooking, place the broth mixture over medium-high heat and cook stirring, until it's thick and bubbly. Cook and continue to stir for a few more minutes.
Place the chicken breasts on a serving platter and spoon the sauce over the chicken. Serve warm.