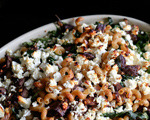 Prep: 10 min
Cook Time: 27 min
Total: 37 min
Serving: 8 servings
Tender and juicy strips of skirt steak are combined with whole wheat pasta, roasted onions, artichoke hearts, baby spinach and feta to create this hearty and delicious dinner meal.
Ingredients
1 pound whole wheat pasta
1 pound flank steak
1 large red onion, roughly chopped
1 cup artichoke hearts
4 ounces baby spinach (about 6 cups)
1/3 cup olive oil
8 ounces feta cheese
salt and freshly ground pepper
Directions
Preheat your oven to 450 degrees.
Sprinkle the steak on both sides with salt and pepper, and then place on a rimmed baking sheet surrounded by the chopped onions. Cook the steak for 8 minutes on each side and then transfer to a cutting board and let rest for 5 minutes before slicing into thin strips.
In the meantime, cook the pasta according to package directions, drain (reserving 1/2 cup of the cooking liquid) and then return back to the pot.
Reduce the heat in the oven to 375 degrees.
Add the strips of steak, the onions, artichoke hearts, feta, spinach and reserved cooking liquid into the pot with the pasta, toss to combine, season to taste and then transfer to a baking dish. Drizzle the mixture with olive oil and then bake in the oven for 15 minutes. Serve immediately.