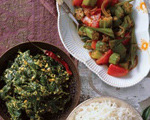 Prep: 10 min
Cook Time: 15 min
Total: 25 min
Serving: 4 Servings
This modern Indian-inspired side dish is a new take on an old classic, creamed spinach. Instead of using heavy cream, thick Greek yogurt is incorporated into the mixture to add smooth texture to this coriander and turmeric-spiced dish.
Ingredients
1 pound baby spinach, rinsed
2 tablespoons olive oil
3 cloves garlic, minced
2 small dried red chiles
1 teaspoon ground coriander
1 teaspoon turmeric
1 cup plain whole-milk yogurt
Salt
Directions
Place half the spinach into a large sauté pan over high heat and cook, stirring frequently, until wilted. Put the wilted spinach into a colander and then sauté the remaining spinach in the same manner. Once cool squeeze out the cooked spinach to remove any excess moisture and then coarsely chop.
Place the olive oil into the sauté pan over medium heat. Once it begins to shimmer, add the garlic and the chiles and cook for 2 minutes. Stir in the coriander and turmeric and cook for an additional minute before adding the spinach, yogurt and a few pinches of salt to taste.
Cook the mixture over low heat, stirring frequently for 3 minutes, and then remove the pan from the heat and serve immediately.