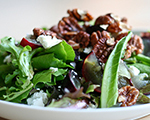 Prep: 10 min
Cook Time: 11 min
Total: 21 min
Serving: 4 Servings
You can usually find pure maple syrup at your local supermarket, or at a specialty foods store. It should be the only item listed on the ingredient list.
Ingredients
2 tablespoons chopped pecans
1 10-ounce package fresh spinach, torn, or 12 cups baby spinach
1 cucumber, peeled, seeded and cut into 1/4-inch slices
2-1/2 teaspoons extra-virgin olive oil
1 shallot, finely chopped
1/4 cup cider vinegar
2 tablespoons pure maple syrup
Salt & freshly ground pepper to taste
1/3 cup shredded smoked Cheddar
Directions
Using a small frying pan or sauté pan, toast the pecans over low heat, shaking pan contents back and forth, for about 2-1/2 minutes. Transfer to a plate to cool and set aside.
Add the oil to the pan and heat over medium-low heat, then add the shallot and sauté for 4 minutes.
Pour in the maple syrup, vinegar and a sprinkle of salt and pepper, and bring to a boil.
Place the spinach and cucumber into a large salad bowl and toss to combine, then pour over the maple dressing and toss again.
Scatter the pecans and cheese over the salad and serve immediately.