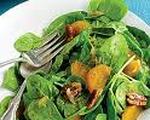 Prep: –
Cook Time: –
Total: –
Serving: 2-4 People
Packed with folate, beta carotene, vitamin C, potassium, and healthy fats this scintillating salad will add gorgeous color and abundant nutritional benefits to your holiday meal. You can find this superfood recipe – as well as many others – in Ani Phyo's cookbook Ani's Raw Food Kitchen, which was awarded "Best Vegetarian Cookbook USA 2007."
Ingredients
12 cups spinach leaves, torn into bite-sized pieces
3 Fuyu persimmons, sliced thinly into little discs
1 1/4 cup Sweet Spiced Pecans*
1 tablespoon finely chopped shallots
Juice of 1/2 lemon
2 tablespoons apple cider vinegar
3/4 teaspoon salt
Pinch ground black pepper
1/4 cup agave or honey
1/4 teaspoon each of salt, cayenne, and cardamom
Pinch of nutmeg
1 cup pecan halves
Directions
Place spinach and persimmon discs in a large bowl. In a small bowl, whisk together shallots, lemon juice, and vinegar; slowly whisk in olive oil in a small stream until well-blended; season with salt and pepper.
To serve, toss spinach and persimmons with dressing, top with spiced pecans and serve immediately. Salad mix will keep for one day and dressing will keep for four days in the refrigerator.
*Sweet spiced pecans: In a bowl, combine 1/4 cup agave or honey, 1/4 teaspoon each of salt, cayenne, and cardamom, a pinch of nutmeg, and 1 cup pecan halves, tossing to coat.